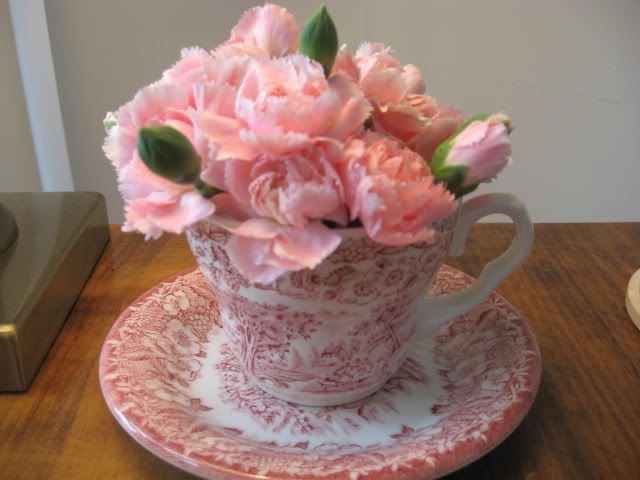 Well, it is primary day here in SC. It will be interesting to see what the outcome will be. In this primary both dems and republicans can vote. Which means dems can vote for the candidate they think will loose against Obama! Weird, eh?
So first I am thankful for the freedom to vote and for the interesting debates we have had.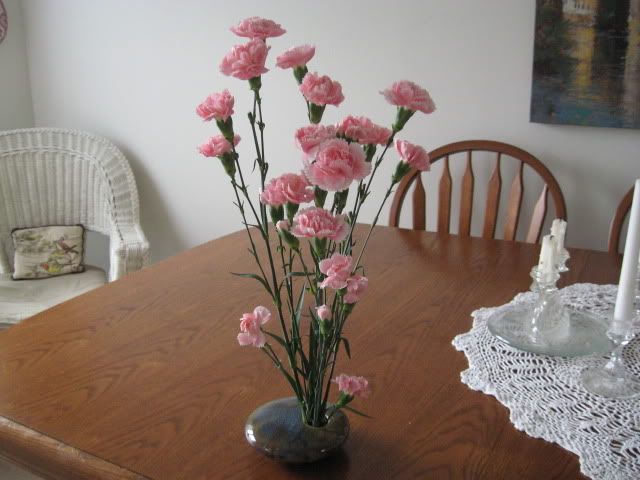 Secondly I am thankful for pink carnations--what a joy to have some in the house during the winter . I placed some in the tea cup shown in picture number one above... and have those on my desk---such a treat.
Then I have some in this cool pottery piece---you can put 1 flower or many--just have to make sure to check the water level. I love hand made pottery, don't you?
Lastly, I am thankful for the wine cup below. Unfortunately we had two which we had given each other for Christmas and one was broken during an exciting movie (It was an Agatha Christie movie ). NOOOOOOOOO , It was not I who broke it. So as a result, it is I (me, myself) that claims the right to drink from the one remaining one! I love it because I love pottery--this one is hand made. Next trip to Saluda, NC I will have to see if there are any more!
Created on: April 03, 2008
Elections creep on cat paws
To pounce the airwaves
Pregnant with dogmatic promises
Colorful scandal and creative
Finger-pointing, served with Olympic
fever.............................
Ps. I am participating in 1000 gifts--button is on the sidebar