Today I am thankful for time to make bread. Time to knead. It is hard for me to be silent and to listen.....to wait on the Lord. I decided since I needed to knead the bread for ten minutes it would be a good practice in silence and listening. It is amazing when I am used to verbalizing to God, how hard it is to be silent!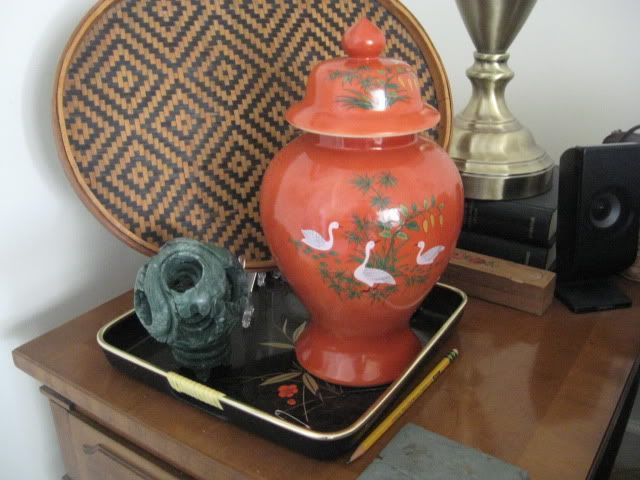 I found this orange ginger jar on ebay for
99 cents. Of course one does have to pay for shipping! I like some touches of bright colors in the house since I have white walls!
The Lord dropped some money in my lap and I had been wanting some comfortable seating in the porch. Something that didn't take up room and could convert to added sleeping for when my grandkids visit. This was perfect. It folds all the way down, or can be used as a lounge chair as I have it or both ends can go up---I got 100 dollars off it because of a combined sale and coupon. Excuse my mess---I just snapped it as is.
Here is a picture of it from the online:
I covered mine with some similar colored quilting for sitting on--but it can be unzipped and dry cleaned. It is from World Market.
Ok, so lastly, I saw a blogger talking about uses for ladders. I pulled out my battered splattered ladder to see if it would work for books and it does. But would my hubby like this, I don't think so--we will see. Some people paint them white , or colors of brightness, or some leave them like mine. Another thing--it would probably be spilled all out when the kiddies come. Sooooooooo, I am experimenting........
Any who--I am thankful again for this beautiful day. I finally got to go walking because my cold is not as bad. It felt as if I had been in another world for 3 weeks! I am thankful for the smell of fresh bread, the hands on kneading and the time to do it and be quiet. I am thankful for God's over provisions this week.