Isn't this how all days should end? Feet propped up and a kitty by the side. My hubby would prefer there be an absent kitty, not I! If I am not around in the evening the kitty will yawl and that is something the hubby does not tolerate well!
Today was blessed by little things. This morning the trees were covered with liquid drops from an early morning rain. When I got over to the cottage the sun peaked out and everything looked like diamonds! It was a treat, as I sat by the fire waiting for the repair man.
The plumber came and extracted a large bloated old rusty galvanized pipe--it looked like something from an ancient shipwreck!!! The plumbing is fixed and that made me happy.
When I got back to the condo I took a walk with hubby in the evening. Although we live near a hospital there are some nice walks with little ponds. We saw geese, and egret, and a running deer. The sun was setting in its red splendor and the light kissed the trees with shades of pink. Such blessings!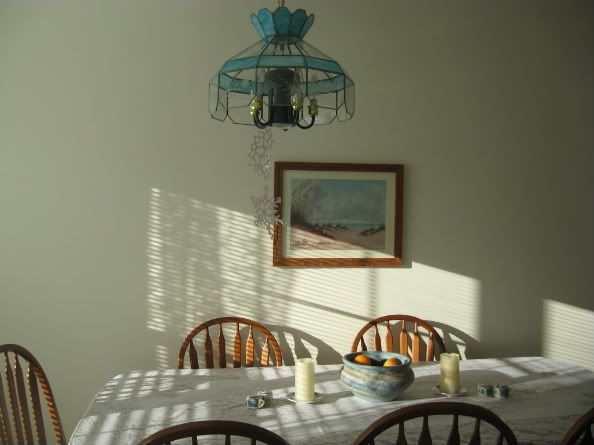 ps. and the above is how days should start, with the soft early morning light!