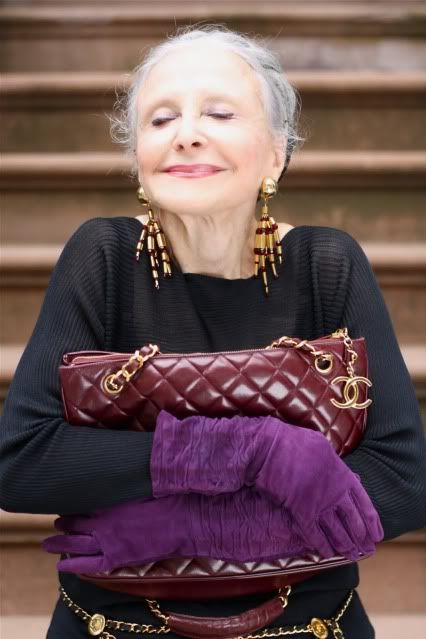 --My Birthday is this week and I turn the Big 60--NO THIS LADY in the PICTURE is not nannykim, but I love her attitude toward life. She lives it with delight. Photo is from
http://advancedstyle.blogspot.com/
I want to continue to live life fully, but am I actually doing that now? I need to think about it.
One of the most important aspects of living for me is getting to know God better. Life is about on-going relationships and my relationship with God is always on-going too. As I was reflecting on this the past few days, I realized how little we know of Him. I have the Bible which reveals many important things--but really when you think about it , it is just 1500 pages or so (depending on the Bible you use). I have creation too---as I ponder on creation and how much we don't understand and know in this gigantic universe I realize how much more so this applies to knowing the God who created it all. Jesus came to show us God. BUT--what I even know of Him is limited to the Bible's revelation, and my experience and the experience and testimony of others.
When I quiet my thoughts and think about Who is God and Who am I........When I think about what is Truth and How do we know it. ......well, it can be difficult. Yes , I have the Bible and yes, I feel God has given this to mankind as a revelation. But as we know, there is a lot of disagreement on how to understand the teachings. Some of it is very clear and I am thankful for that--but there are so many interpretations !!!
I see a constant need to go to God and to ask of Him about everything. I am often surprised at how He answers even when I don't actually pray for something ---I may just be thinking about it and boom He gives an answer. But at the same time I am in the position that I simply have to just trust Him ---my knowing Him is up to Him as I seek His face.
I think this song below expresses how I feeL